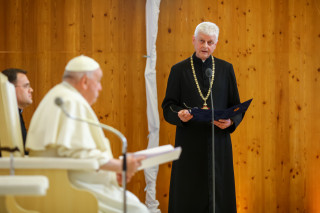 Photo: Lambert Attila/Magyar Kurír
Géza Kuminetz (1959)
Catholic priest, lecturer at Pázmány Péter Catholic University. His academic degrees are: Licentiate in Canon Law (1991), PhD in Theology (1996) and Habilitation in Theology (1997). He completed his postgraduate studies at the Pontifical Gregorian University in Rome. He was a professor at the Archbishop's Theological College of Veszprém until 1996 and is currently Head of the Department of the Faculty of Religious Studies at Pázmány Péter Catholic University (he was Head of Department for Canon Law between 2003-2008, and since 2009 Head of the Department of Pastoral Studies and Liturgy). His studies have been published in scientific journals such as Folia Canonica, Folia Theologica, Athanasiana, Kánonjog, Teológia and Studia Wesprimiensia. He is also member of the editorial board of these journals, with the exception of Athanasiana. In 2007 he was elected a member of the Szent István Academy of Sciences. Since 2014 he has been involved in the natural law research group of the Faculty of Law and Social Sciences of Pázmány Péter Catholic University. He is rector of Pázmány Péter Catholic University from 1 September 2019.
Dr. György Cserey (1975)
After graduating in electrical engineering from the Budapest University of Technology and Economics, he obtained his PhD degree summa cum laude in 2006 under the supervision of Tamás Roska. In 2001, he worked as a research assistant at the Institute of Computer Science and Automation of the Hungarian Academy of Sciences (HAS), where he was also a senior researcher, and later became a senior researcher at the HAS, Pázmány Péter Catholic University and the Research Group on Infobionics and Neurobiological Plasticity of Semmelweis University. Since 2009, he has been Associate Professor at the Faculty of Information Technology and Bionics (ITK) at Pázmány Péter, and from 2016 to 2022 he was Deputy Dean for Innovation, currently Dean of the Faculty of Innovation. The outstanding quality of his wide-ranging teaching activities is demonstrated by the Student Research Society, Msc and even PhD theses of his students and his numerous publications. His research activities include being the technology manager of StreamNovation Ltd. and the holder of seven patents. Professional conferences and collaborations are evidence of his work in terms of community organization and scientific progress, recognized with multiple awards.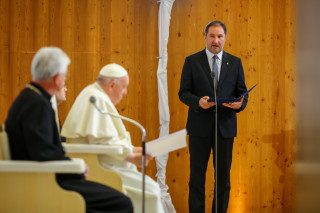 Photo: Lambert Attila/Magyar Kurír
Dr. Balázs Major (1975)
Archaeologist, historian, Arabist, head of the Institute of Archaeology at the Faculty of Humanities and Social Sciences of Pázmány Péter Catholic University, Deputy Dean for Foreign Affairs and founder and head of the Syrian-Hungarian Archaeological Mission. He graduated in Arabic Studies (2000), Archaeology (2003) and History (2004) at Eötvös Loránd University and obtained his PhD in Archaeology from Cardiff University in 2008. Since 1997, he has led fieldwork abroad and several excavations in the Middle East (Syria, Lebanon, Iraqi Kurdistan), as well as in Hungary on the Castle Hill of Esztergom, the Pauline monastery in Kesztölc and the site of the Roman cemetery in Sárisáp. He is co-leader of the excavation of the Cistercian monastery of Egres (now Igriş, Romania), which also served as the burial place of King Andrew II, leader of the Hungarian Crusade. The Department of Archaeology at Pázmány Péter Catholic University was established in 2012 under his leadership. He initiated the English-language Master's and Doctoral degree courses in archaeology for foreign students, mainly Syrians, in 2016. His fields of research include: the late antique and medieval settlement network in the Eastern Mediterranean, the medieval military architecture of the Middle East and Europe, the archaeology of Hungarian royal centres and their surroundings.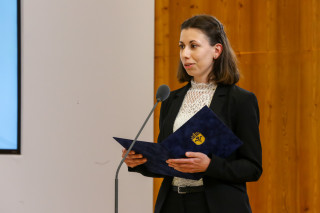 Photo: Lambert Attila/Magyar Kurír
Dorottya Kocsis (1996)
She graduated from the Nagy Lajos Grammar School of the Cistercian Order of Pécs, then obtained a BSc in Molecular Bionic Engineering (2019) and an MSc in Medical Biotechnology at the Faculty of Information Technology and Bionics of Pázmány Péter Catholic University. She was a visiting student at the Jagiellonian University, where she studied Molecular Biotechnology in 2021. During her studies, she was an award-winner of the New National Excellence Programme for three years. Currently, she is a PhD student at the Faculty of Information Technology and Bionics of Pázmány Péter Catholic University, where her research interests include: active substance delivery across physiological barriers, with special focus on the effects of skin diseases (psoriasiform, contact and atopic dermatitis) on dermal absorption. As a lecturer, she is versed in teaching molecular physicochemistry and cellular molecular biology and genetics. As an undergraduate student, she gained experience at the Preclinical Imaging Centre of Gedeon Richter NyRt., and in 2022 she was a visiting researcher at the Laboratory of Nanomedicines and Nanoprobes, Tours University, France. Her volunteer work has been welcomed by the Dévai Szent Ferenc Foundation, the Carpathian Basin Talent and the KórházSuli (HospitalSchool) Foundation, providing extensive support to disadvantaged, orphaned and ill children in their studies. Currently, she is the coordinator of the programmes of the University College of the Societas Jesu Cordis in her free time.
Zsuzsanna Esztó, Dr. Tamásné Roska (1942)
She started her musical studies at the age of 9. At the age of 14, she was admitted to the "special talent" piano class at the Academy of Music. Her teacher was Pál Kadosa throughout her studies. She graduated with honours in 1966 with a degree in piano performance and teaching. From 1970 until her retirement she taught at the University of Music and Performing Arts, obtaining a DLA degree in 2000. She has given concerts in Budapest, Austria (Vienna: Schubert Hall, Brahms Hall, Mozart Hall), Italy, USA. Her husband, Tamás Roska, is a Széchenyi and Bolyai Award-winning Hungarian electrical engineer, computer scientist, university professor, full member of the Hungarian Academy of Sciences, and in 1998 he was the founding dean of the Faculty of Information Technology at Pázmány Péter Catholic University. She has three children: Péter (a Catholic priest), Botond (a neurobiologist, researcher and university professor) and Zsófia (a mother of four).
Barnabás Beller (1999)
He graduated from the Benedictine Grammar School of Pannonhalma, and is a psychology student at Pázmány Péter Catholic University (PPKE) since 2018. In recent years, he has been actively involved in the organisation of student life, founding several self-help groups, acting as a student life promoter for several years, as well as a tutor, coordinator and peer support promoting the integration of new students. He started his instrumental studies in a self-taught way, and studied organ and church music at the Pécs Cantor Training School from 2014, the Pannonhalma Benedictine Grammar School andPázmány Péter Catholic University as a student of Ferenc Szilárd Kovács, Zsolt Kiss and László Varga. Since 2018, he has been the permanent deputy organist of the Jesuit Church of the Heart of Jesus in Budapest, and president of the Emberkép Association, which he founded in 2022 together with several colleagues.
Zsófia Roska (1974)
She began her musical studies at the music department of the Városmajor Grammar School, under Zsuzsanna Gráf's guidance. She was a member of the Hungarian Heritage Award-winning Angelica Girls' Choir for seven years and sang solo on several of the choir's CDs. She later studied singing privately with Mircea Breazu, Maria Teresa Uribe and Ilona Adorján. With her mother, Zsuzsanna Esztó and pianist Zsuzsa Pertis, she has performed several times in the United States, in Rome and in the Grand Hall of the Budapest Academy of Music. She is a graduate of the Faculty of Theology of Pázmány Péter Catholic University. She later worked as a journalist for the Catholic weekly Új Ember. She is married and is a mother of four. Her father, Dr. Tamás Roska, is an academic, he was the founding dean of the Faculty of Information Technology and Bionics at Pázmány Péter Catholic University.