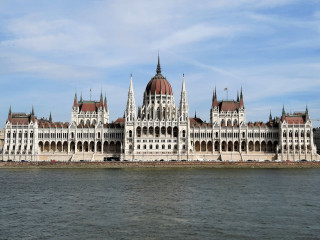 The Parliament
Photo: Baranyai Béla/Magyar Kurír
The Hungarian Parliament in Budapest is one of the most beautiful of its kind in the world and has become an iconic building. It is located on Kossuth Square, overlooking the Danube. Thousands of tourists visit this UNESCO World Heritage listed building every year, which deserves the title of the pride of nation.
An important factor in the construction of the Parliament building, based on the designs of Imre Steindl, was to ensure that only Hungarian construction materials be used and that it be built by Hungarian workers. The construction was started in 1885 and completed in 1904, meaning its creator, Imre Steindl, did not live to see its completion.
The Parliament building is monumental in size. The wing parallel to the Danube is 268 m long and the building is 123 m wide and 96 m high, and its footprint, consisting of four floors, is almost 18,000 square meters. The construction required 40 million bricks, 30,000 cubic meters of ornamental stonework, and there was no shortage of gold being used, either: the building used 40 kg as adornment. The building contains a large number of statues, with 90 lining the façade and an additional 152 inside, representing prominent figures from Hungarian history. It has 27 gates, 29 staircases, and 13 elevators.
The architectural style evokes Baroque, Gothic, and Renaissance styles. A prominent feature on the Parliament building is the large dome, with the Lower and Upper Houses located on either side. The dome is representative of uniform legislation, with the area underneath it formerly used for joint sessions of the two houses.
Today, the Parliament building contains more than 200 offices for the members of parliament and their staff. It also houses the important symbols of Hungarian statehood, the Holy Crown and the coronation regalia, which were moved here from the Hungarian National Museum in 2001.
The Parliament building is open to visitors, with several thousand people visiting both the Visitor's Centre and the Museum of the National Assembly. During Advent, the square in front of the building gives home to the nation's Christmas tree.