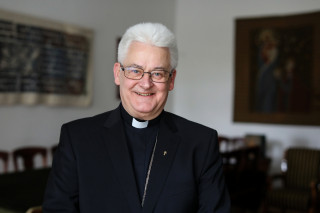 Antal Spányi, Bishop of Székesfehérvár
Born in Budapest in November 13, 1950. Of his three siblings, András was a priest in the Archdiocese of Esztergom-Budapest. He graduated secondary school at the István Széchenyi Secondary School and studied theology at the College of Theology in Esztergom. He was ordained a priest by László Lékai on June 19, 1976 in the same city.
He served as chaplain in Ludányhalászi and was then transferred to Szécsény in 1977 and Budapest-Középső-Ferencváros in 1983. Here, he became deputy parish priest and then parish priest in 1988. Between 1989 and 1992, Antal Spányi served as the deputy dean of the Budapest South Pest parochial district. In 1992, he was transferred to serve as parish priest in District VII of Budapest, to Erzsébetváros. In 1994, he was awarded the title of Chaplain of His Holiness for his work in leading the catechistic workgroup in preparation of the diocese synod.
On February 13, 1998 he was appointed Titular Bishop of Tharros and Coadjutor Bishop of Esztergom-Budapest. He was ordained a bishop by Cardinal and Archbishop László Paskai on March 28, 1998. His motto is: Laudetur Jesus Christus – Praised be Jesus Christ.
On April 4, 2003, Antal Spányi was appointed Diocesan Bishop of Székesfehérvár by Pope John Paul II; he was conferred on May 24.
In the 2004/2005 national Year of the Eucharist, he introduced the practice of holding Eucharistic adoration on the first Thursdays of the month in his seat of Székesfehérvár, and of holding prayers for priestly vocations on Ascension Day in the entire diocese. In 2007, which was the Year of St. Elizabeth in all of Hungary, he announced that the diocese would also celebrate the 1000th anniversary of the birth of St. Emeric. As part of the Year of St. Elizabeth programs, parish charity groups were renewed or established, as necessary. He organized the National Charity Conference in Székesfehérvár, which provided a presentation of the charity work performed by the Hungarian Catholic Church and its importance.
During his service as a bishop, he preserved the memory of István Kaszap by way of prayers and established the Prohászka Prayer Group in 2008 to pray for new priestly and monastic vocations in the diocese and the entire nation.
Bishop Antal Spányi is the President of the Catholic Charity service. As bishop, he has been the Director of Hungarian Catholic Radio since its inception (2004).
In 2012 he was awarded the Order of Merit of Hungary in recognition for his work in organizing the Hungarian Catholic Radio and in supporting the needy and underprivileged, which award he received in the Parliament building.