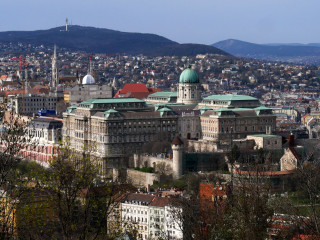 The Buda Castle District
Photo: Baranyai Béla/Magyar Kurír
The Buda Castle District is a part of Budapest District I, an ancient part of the city of Buda. It was recognized as a UNESCO World Heritage Site in 1987. The plateau of Castle Hill lies 70 m above the Danube and 175 m above sea level, which history has proven to be an excellent strategic location. King Béla IV built a fortress here after the Ottomans were driven out, and King Matthias used the location as the center of his kingdom. Thanks to its excellently preserved cultural heritage, the Castle District is one of the most frequented parts of the city. Its network of roads is characterized by narrow, winding streets lined with colorful houses. The District contains a number of historic landmarks and both residential houses and public buildings dating from the 17th and 18th centuries. The Castle District can be broken down into three main areas: the Buda Castle, St. George Square (which two are together called the Buda Palace District), and the historical residential quarter. Although the entire district was almost completely obliterated on two separate occasions – when Buda was re-captured from the Ottomans (1686) and in World War II (1944-45) – it has still remained to this day. The quarter traces its roots back to Buda's old city center and today extends all the way from the Vienna Gate to St. George Square.
The Buda Castle District is home to the Buda Castle, the Fisherman's Bastion, Matthias Church, Church of Mary Magdalene, the Military History Institute and Museum, the National Széchényi Library, the residence of the President of the Republic (Sándor Palace), and the former Carmelite Monastery now used as the Prime Minister's Office.
The Budapest Castle Hill Funicular connects the district with the Danube.