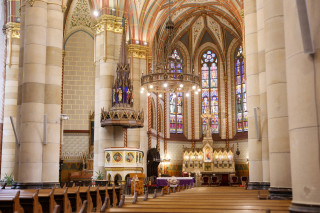 Church of St. Elizabeth of Hungary
Photo: Merényi Zita/Magyar Kurír
At the start of the 19th century, the city's leadership noticed a sharp increase in the number of Roman Catholics in Budapest District VII, called Erzsébetváros (Elizabeth City), and so lent its support to the construction of an independent church and parish. With the permission of Cardinal Prince-Primate János Simor, a small temporary church was erected in 1881, which was later donated as a gift in 1905 and continues to be used today as the Greek Catholic church consecrated to the Virgin Mary, Mother of God. The initiative of the Elizabeth City Civil Association was to build a large church in honor of St. Elizabeth of Hungary, attempting to win over Queen Elizabeth to support their cause. Prince-Primate János Simor purchased the plot at the center of the square, and in September, 1889 a tender was announced for designing the church. After Imre Steindl's neo-Gothic approach was deemed the winner, construction began on September 1, 1893. Though the new church was planned to be completed by the celebration of Hungary's millennium, the consecration had to be postponed on a number of occasions, including due to the attempt on the Queen's life. The church walls were already standing when the cornerstone was laid in grand celebrations on October 20, 1895 led by Cardinal and Prince-Primate Kolos Vaszary in the presence of Franz Joseph I. The exterior works were completed at the end of 1897. The main altar is unique in Imre Steindl's oeuvre: The sacrament house is bordered by a line of alcoves, rising from the building-like structure as a cross-nave reminiscent of a relic holder, where the uppermost level portrays the crucified Christ with the Virgin Mary and John the Apostle at his feet. The church was consecrated on May 16, 1901 in the course of celebrations held by Bishop Medárd Kohl followed by a celebratory mass held by Bishop Schlauch from Oradea. According to contemporary notes, the King spent the entire mass kneeling on the cushion reserved for him.
The original five bells were requisitioned during World War I, only two of which have been replaced since: the bells named after St. Ladislaus and St. Margit. In World War II, the square was hit by a bomb, which broke the majority of the church's windows, and the church suffered additional damage in the ensuing siege. As suitable renovations could not be performed, the building ended up in quite a bad condition by the 1980s, after which renovations were started in 1992. The building was classified a historic landmark in 1995.
The creations manufactured by the Zsolnay porcelain works also enhance the church's artistic value.