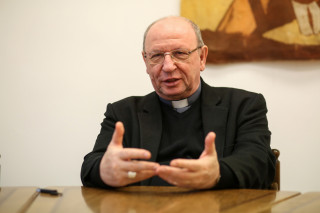 Ferenc Palánki, Bishop of Debrecen-Nyíregyháza
Photo: Merényi Zita/Magyar Kurír
Ferenc Palánki, Diocesan Bishop of Debrecen-Nyíregyháza, was born in Balassagyarmat on March 11, 1964. He spent his childhood in the town of Cseztve and studied in Balassagyarmat, then went on to graduate as a product engineer from the Transport and Telecommunications Technical College of Győr. He wrote a thesis on telephone technology.
Ferenc Palánki decided to join the Church in 1989. Between 1989 and 1994, he studied at the Esztergom College of Theology and was ordained to the priesthood in the same city on June 18, 1994 to serve in the Diocese of Vác. His service started as chaplain and then parish priest in Balassagyarmat, followed by Dorogháza and Püspökszilágy.
In 2000, he obtained a PhD in canon law at the Pázmány Péter Catholic University. Between 2005 and 2010, he was spiritual director at the Propaedeutic Seminary of Vác and the Budapest Central Seminary between August and December 2010.
In 2010, Pope Benedict XVI appointed him as Coadjutor Bishop of the Archdiocese of Eger and also awarded him the title of Titular Bishop of Fidoloma. Ferenc Palánki was ordained bishop by Cardinal Péter Erdős in the Eger Cathedral in 2011.
His motto as bishop: Jesus est resurrectio et vita – Jesus is the Resurrection and the Life.
Palánki went on to coordinate the pastoral functions of the largest city in the Archdiocese, Miskolc, as coadjutor bishop and parish priest of the All Saints' Parish, then filled the position of vicar general for the Archdiocese of Eger.
In 2015, Pope Francis appointed him as Diocesan Bishop of Debrecen-Nyíregyháza: his inauguration took place in the St. Anna's Cathedral in Debrecen on November 14. In addition to his tasks as diocesan bishop, he is also the leader of the Hungarian Catholic Bishops' Conference's Youth Committee. The Youth Committee seeks to evangelize and provide spiritual education to young people, to help them unfurl their callings and support them in their vocations, ensuring that all young people can find their place in the Church and society.
In recognition of his service, he was awarded the civilian rank of the Order of Merit of Hungary on March 15, 2021.