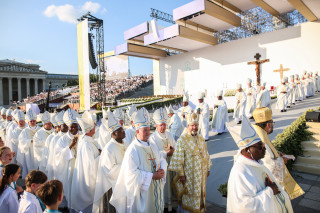 The opening mass of the 2021 Eucharistic Congress in Hősök Square
Photo: Lambert Attila/Magyar Kurír
The 52nd International Eucharistic Congress (IEC2020) was originally planned for September 13-20, 2020, but was postponed for a year (September 5-12, 2021) due to the pandemic. The international congress held regularly since 1881, and lately every four years, is centered around celebrating the presence of Jesus Christ in the Eucharist as professed by the Catholic Church. Hungary started preparing for the event in 2016.
In the Congress's history spanning more than one hundred years, Hungary first undertook the role of host in 1938 on occasion of the 34th Eucharistic Congress. The congress's motto, "The Eucharist is the bond of love", was very much apt considering the situation in Europe in 1938. The expansive event commenced on Hero's Square on May 25 and lasted until May 29, mainly with international meetings, debates, and catechesis in the morning, and festivities, processions, Eucharistic adoration, and masses in the afternoon. On May 26, a special procession was held using boats on the Danube. On May 27, a Eucharistic adoration was held on Hero's Square with the participation of 150,000 men, followed by Holy Mass celebrated at midnight. At the closing Mass held on May 29, approximately a half a million strong congregation heard the Pope's message broadcast over the radio, after which the event was closed with the procession leaving from St. Stephen's Basilica at 3 in the afternoon.
To quote Cardinal Péter Erdő, Archbishop of Esztergom-Budapest, about the importance of the 52nd International Eucharistic Congress held in 2021: "This is our introduction to the world: not only the Church of the world, but also the civilian world." The Congress's motto was "...all my springs are in You." Attendees arrived from 83 countries around the world, including Tanzania, Togo, Sri Lanka, and Vietnam, with the 16 to 25 and the 46 to 54 age groups the most prevalent. Many meals were given to the needy across the country, and more than six hundred people received meals in Budapest. A chorus consisting of the members of 40 communities provided the music for the Eucharistic adoration of communities while 120 priests heard confession. At the catecheses, testimonies, Holy Masses, and lectures held at Hungexpo, more than 60 speakers from 40 countries on five continents addressed enormous audiences. 20,000 people attended the day organized for families. Approximately 200 thousand people participated in the candlelit procession held after the Holy Mass celebrated on Kossuth Square.
Pope Francis visited Hungary to hold the closing mass for the IEC. The importance of his visit is underlined by the fact that a head of the Catholic Church last attended a Eucharistic Congress in 2000.