The statue of St. Stephen in Hősök Square
St. Stephen (born in 975 as Vajk, died in 1038) was the last Hungarian grand prince and the first Hungarian king, and is Hungary's patron saint. The son of Grand Prince Géza and his wife Sarolt, he created the Christian Hungarian state and is one of the most important figures in Hungarian history.
Vajk was christened sometime between 985 and 989. To ensure that Hungary adopted Christianity and oriented itself towards the West, Géza excluded his rival, Koppányi from succeeding to the throne and named his son Stephen as his successor. Adalbert, who hailed from Prague, confirmed the young Stephen and then in 995 married Stephen to Gizella Liudolf, the daughter of Henry II, Duke of Bavaria. One of Stephen's most important collaborators, the monk Astrik, who had arrived from Prague in 993, appealed to Pope Sylvester II to confirm Stephen's rights. Thanks to Astrik, the pope conferred a crown upon Stephen together with the apostolic right to establish dioceses and appoint members of the Church. By way of his coronation on January 1, 1001 (on Christmas, 1000, according to the Julian calendar), he became King of Hungary "by the grace of God". Stephen had to fight bloody battles with the lords revolting against him. By 1028, his state extended to the entire Carpathian Basin and its form of government did not change until the 20th century. The thousand-year-old Hungarian set of laws starts with the laws he enacted.
As King Stephen also enjoys historical significance as an organizer of the Church, he and his heirs bore the title of apostolic king. He ordered that Sundays be observed and that one church be built for every ten settlements. He continued and completed construction of the Benedictine Abbey in Pannonhalma. He had the Esztergom Cathedral, the Székesfehérvár Basilica, and the Saints Peter and Paul Church in Óbuda built. King Stephen invited Benedictine priests to come to Hungary, established monasteries that helped Latin writing flourish, and ran schools that became intellectual centers for learning. He established archdioceses in Esztergom and then in Kalocsa, allowing the Hungarian Church to gain independence from the German Church. In addition, he also established eight bishoprics.
St. Stephen ensured that Christian Hungarian spirituality became a presence outside of Hungary, as well: he had guest houses built for Hungarian pilgrims in Constantinople, Jerusalem, Ravenna, and Rome for visits to the Holy Land and Rome. The pilgrimage house in Rome was demolished centuries later, when Pope Pius VI initiated the rebuilding of St. Peter's Basilica in 1776 and it was found to be in the way. A plaque on the outer wall of St. Peter's Basilica sacristy commemorates the former house.
St. Stephen died on August 15, 1038, and he was buried in Székesfehérvár in the basilica he himself had had built. Before his death, he offered up his crown and his country to the Virgin Mary. Ever since, the Virgin Mother has been revered as Our Lady of Hungary. Pope Leo XIII granted Hungarians license to hold a separate holiday in St. Stephen's honor.
At the initiative of King St. Ladislaus, he was canonized by Pope Gregory VII. The Orthodox Church canonized St. Stephen in 2000.
His mummified Holy Right Hand, on display in St. Stephen's Basilica, is an important relic. August 20, the day on which King Stephen was canonized, has been a national holiday since 1771. The Admonitions written by St. Stephen to his son Emeric remain interesting and useful reading to this day.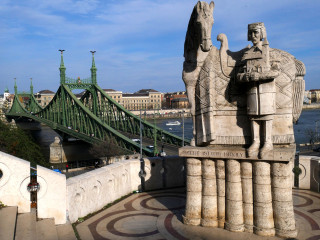 The statue of King Saint Stephen in front of the Sziklatemplom on Gellérthegy
Photo: Baranyai Béla/Magyar Kurír