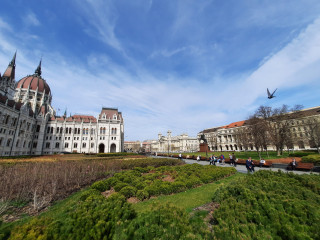 Kossuth Square in Budapest
Photo: Baranyai Béla/Magyar Kurír
Kossuth Square in Budapest is the "national main square" not only for Budapest but for all of Hungary. This highly symbolic urban district has been witness to all of Hungary's 20th century history and is now home to numerous famous statues and public buildings. The most famous of these is undoubtedly the Parliament building, which remains an unparalleled spectacle to this day with its towering spires and neo-Gothic style. The square is home to important buildings such as the Ministry of Agriculture, the Palace of Justice, and the Wellisch House. The famous statues scattered around the square depict famous Hungarians from the 18th, 19th, and 20th centuries. First and foremost is the statue of Francis II Rákóczi, which has remained in its original location ever since its inauguration, statues of famous Hungarian prime ministers Count István Tisza and Count Gyula Andrássy, and the Monument of National Martyrs. The monument to the victims of the shooting at Kossuth Square is located on the wall of the Ministry of Agriculture and Rural Development:
on October 25, 1956, several hundred peaceful protestors lost their lives when Soviet soldiers and the State Protection Authority opened fire. Men, women, the elderly, and children all lost their lives. This would be the Revolution's bloodiest event in Budapest.
The square remains a popular attraction both for tourists and as a place of remembrance.