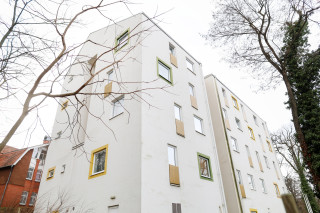 László Batthyány Children's Home, Kindergarten, and Primary School for the Blind
Photo: Merényi Zita/Magyar Kurír
The roots of the institution date back to 1982, when the Saint Anna Home for Blind Children was established by the Caritas of the Roman Catholic Church on Batthyány Square. Cardinal László Lékai toiled hard to see the institution come to fruition together with special education teacher Sister Fehér Anna, who dreamt up and headed the house until her death. Their aim was to help the development and education of children with seeing and hearing disabilities.
They started off with ten live-in children and five commuting children. In 1989, the state provided the institution with an empty lot in the Svábhegy district. This building, located at the address Mátyás király út 29, continues to be used by the institution to this day. Thanks to community cooperation, it has undergone a number of renovations and can house twenty live-in and fifteen commuting children.
Reforms in the education system allowed the home to obtain a license to function as a kindergarten and school on January 14, 1991. At the time, the institution, managed by the Order of the Sisters of St. Elizabeth, was renamed the László Batthyány Children's Home, Kindergarten, and Primary School for the Blind in honor of the "doctor of the poor." Starting from the fall of 1994, the home was expanded to house 45 children and 15 commuters.
As the first inhabitants quickly reached adulthood at the age of 18, it became necessary to establish a new home for them. Expansions were carried out with the assistance of the Prime Minister's Office and the Heydar Aliyev Foundation: The building, suitable for housing and employing thirty adults, was completed in 2015 based on the designs of Géza Kendik and is fully accessible. It boasts a pool, gym, terrace, and workshops. Since then, the number of employees has exceeded sixty people. Today the institution has come to have national importance and cares for children with multiple disabilities as well as children and young adults with visual impairments in public care.