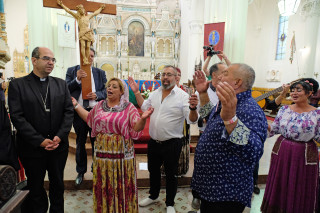 Bishop János Székely with roma believers at the Eucharistic Congress
Photo: Fábián Attila/Magyar Kurír
The beginnings of Catholic Pastoral Care for the Roma in Hungary dates back to the 1940s, when parish priest Miklós Sója started working among our Roma brethren. Today, dioceses, 15 monastic orders, and civil society organizations serve Roma communities in approximately 100 settlements. The main objective of the pastoral care is to spread the Gospel and invite others to the Church's communities.
Currently, more than 8% of Hungary's population is Roma, with high levels of unemployment and school drop-outs, and many living in extreme poverty. The Church strives to connect with our brethren in many forums, thus primarily in spiritual assistance as well as by providing education and work.
In 2015, the Hungarian Catholic Bishops' Conference established the Blessed Ceferino Institute, which supports Church persons and employees working in Roma pastoral care, strengthens spiritual communities, and organizes meetings and spiritual retreats. This takes place with the cooperation of the Church's Roma pastoral care leaders and Roma priests, in line with Vatican and Hungarian guidelines. Roma pilgrimages, feast days (Mátraverebély-Szentkút, Máriapócs, Csatka), national spiritual retreats, quiet retreat days, and conferences are organized every year.
The institute maintains contact with 95 Catholic-affiliated study institutions and community centers, parishes within the various dioceses, the dioceses themselves, Roma colleges for advanced studies at universities, and other trade associations. It provides Roma ethnicity and religious education materials to help teachers and supports the celebration of international Roma days in schools. Hungarian theological colleges also teach Romani studies and the principles of Roma pastoral care to future priests and teachers of the faith.
To date, 180 people have graduated from the institute's Roma pastoral care training, who act as bridges between the Church and families, helping communications with institutions. 270 people work in 70 settlements as part of the national public employment program. In all, they help the day-to-day lives of about 15,000 people in Hungary. Our communities also help in providing care to war refugee Roma families.
Hungary is the only country in Europe to have had the entire Bible translated into the Romani language, and soon the entire missal will also be available. The Romani Mass debuted in 2021, and the Roma mission was also given an important role in the Eucharistic Congress's programs in Budapest.
The institute has formed supportive relations with missions in neighboring countries as well as the European CCIT organization.
It is also our responsibility to raise awareness among people of non-Roma ethnicity, where the unity of our faith and the Church community plays a pivotal role,
all under the intercession of Blessed Cefrino and Blessed Emilia. To this day, these Roma saints martyred during the Spanish civil war connect the Roma pastoral care communities functioning in different countries.