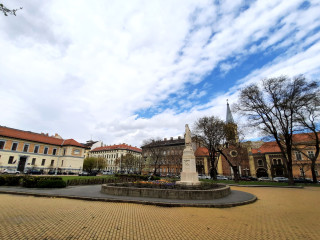 Rózsák Square
Photo: Baranyai Béla/Magyar Kurír
Budapest was founded in 1873 with the unification of the cities of Óbuda, Buda, and Pest. In 1879, the district civil circle motioned that their district be named after the Hungarian Queen Elizabeth. After Franz Joseph I granted his approval, the Budapest General Assembly passed the motion on January 25, 1882, and District VII has been called Erzsébetváros (or Elizabeth City) ever since. In the beginning of the 1870s, the square was called Poultry Market Square after the local market. During the decade, the area was split up into lots and educational, religious, and social buildings were raised: the first to be completed was the National Protestant Orphanage in 1876. Today, the building houses the Budapest Dormitory run by the Evangelical-Lutheran Church in Hungary. The National Infant Protection Society's Institution for Kindergarten Teachers was established the same year; today, the neo-Renaissance building designed by József Pucher is home to the Therese Brunsvik Kindergarten of Erzsébetváros, the Nikola Tesla Serbian Kindergarten, Primary School, High School and Dormitory. In 1878, the square was renamed Poor House Square after the Elizabeth Home for the Poor located here.
The square was renamed Rózsák tere (Roses' Square) in 1932, a name related to the church's patron saint, Saint Elizabeth. In 1931, the church community's council initiated the erection of a St. Elizabeth statue in the middle of the square. The completed statue, the work of József Damkó, was inaugurated in 1932 on the 700th anniversary of the death of its saintly subject. A relief on the pedestal portrays St. Elizabeth as she receives the belt of the Order of St. Francis; on the other side, she is shown relieving a poor man's thirst. The inscription reads: "St. Elizabeth, mother to the poor, protect the greatest of the poor, our Hungarian nation."
As the number of Roman Catholics greatly increased, a small temporary church was erected in 1881, which was later donated as a gift in 1905 and continues to be used today as the Greek Catholic church consecrated to the Virgin Mary, Mother of God.
An interesting point of note about the square is that it is home to one of Budapest's remaining "green trams", more commonly known as a restroom. These friendly looking buildings are easy to identify thanks to their shape and color, and they became a common sight after World War 2.