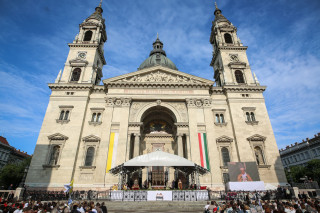 St. Stephen's Basilica
Photo: Lambert Attila/Magyar Kurír
In 1838, the Danube flooded Pest. At the time, today's St. Stephen Square was a little hill, where a number of people managed to escape from the rising water. The survivors decided to donate money to raise a church, contracting József Hild, who designed the basilicas in Esztergom and Eger, to come up with the designs.
Construction work started on October 4, 1851 in the Classical style. The semi-circular chapel around the sanctuary was completed first, which functioned as the parish church of Lipótváros. On January 22, 1868, the walls of the chapel collapsed, after which Miklós Ybl, who had designed the Opera Building, was commissioned to rework the plans, which he gave a neo-Renaissance style. The works then continued. József Kauser was charged with the building's interior design. The church was consecrated in November 9, 1905. The keystone was laid in the presence of Emperor and King Franz Joseph I on December 8, 1906. Although the original plans had intended the church to be named after Saint Leopold, the patron saint of Austria, it was consecrated in honor of King St. Stephen in 1897, during the millennium celebrations of Hungary's statehood. In 1931, Pope Pius XI awarded it the title of basilica minor, and it served as the main venue for the 34th International Eucharistic Congress in 1938.
Like on the rest of the city, World War II left its mark on the Basilica as well. During the renovation works, the cupola burned down in 1947 and had to be rebuilt. In 1971, the final resting place for the Holy Right was built in the St. Leopold chapel. A full renovation was started in 1983 and ended up lasting twenty years. This included creating a round viewing platform around the cupola, which provides a wonderful view of Budapest.
In 1991, Pope John Paul II paid a visit, after which he awarded the basilica the title of co-cathedral of the Archdiocese of Esztergom-Budapest in 1993. Péter Erdő, Cardinal, Primate, Archbishop of Esztergom-Budapest consecrated the new Chapel of the Sacrament on June 6, 2010.
The tympanum is decorated with Hungarian saints and Saint Leopold adoring the Virgin Mary and the young Jesus, with St. Stephen to their left. The inscription on the façade reads Ego sum via, veritas et vita. (I am the way, the truth, and the life.) The four evangelists are depicted in the tower's alcoves. The right belfry houses Hungary's largest bell, the nine-tonne St. Stephen bell, while the left belfry contains five smaller bells. The twelve apostles can be seen beneath the figure of Christ on the left of the Basilica. The building can house nearly 8500 persons. The main altar is decorated with a statue of St. Stephen as designed by Alajos Stróbl.