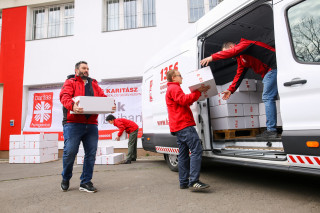 Photo: Lambert Attila/Magyar Kurír
The Caritas Hungary (Caritas Hungarica) is the official aid agency of the Hungarian Catholic Church. Since its foundation in 1931 and its re-establishment in 1991, it has been helping people in need, regardless of age, gender or denomination, through the maintenance of social institutions and various aid programmes. Their main aim is to bring the personal love of the volunteers and professionals working in the caritas network to the people they support. The organisation is supported by 10,000 volunteers in 800 municipalities across the country. They work in 8 main fields of activity: the elderly and sick, families in need, people with disabilities, people with reduced working capacity, addicts, the homeless, disadvantaged minorities, persecuted Christians and refugees, victims of humanitarian disasters.
In recent years, Caritas Hungary has been a key provider of aid to victims of humanitarian disasters and refugees from war, in addition to its national aid programmes. Domestic aid programmes have focused on housing, family livelihoods, social integration of the most disadvantaged, schooling, and health improvement for the elderly.
During humanitarian disasters, rapid assistance was provided in the 2021 earthquake in Croatia (Sisak, near Petrinja). Five residential containers were distributed to residents left without shelter and then specifically supported the reconstruction with construction materials.
In 2022, refugees fleeing the war in Ukraine were a particular focus of the relief effort. More than 21,000 people received rapid assistance at the aid centres and thousands of people slept in temporary shelters organised by Caritas. The value of the assistance provided to refugees in the Integration Centre exceeded HUF 1,000,000,000. Nearly 1300 families received housing or livelihood support worth HUF 60,000,000. 91 children from 50 families received school start-up grants, and 100 children spent their summer holidays in a Caritas camp in Balatonakali. In addition, information and psycho-social support and children's activities are provided to refugee families.
In 2023, following the earthquake in Turkey, a rescue team was immediately dispatched and its members spent 92 hours searching for survivors in six cities. Meanwhile, a four-tonne relief shipment was also dispatched. The Caritas will no doubt have to continue its work of providing temporary shelter for displaced victims.