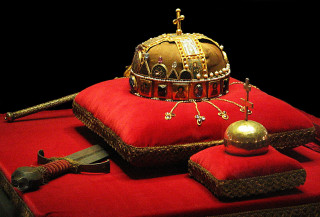 Together with the Hungarian coronation regalia the Holy Crown is a symbol of Hungarian statehood and is a defining artefact of Hungarian history, one of Europe's oldest coronation crowns that remains intact to this day.
For a long time, it was known as the Crown of Saint Stephen given to him as a gift by Pope Sylvester II. However, two centuries of scientific research and goldsmith studies have shown that it was created by fitting two different crowns together and it ended up in Hungary in the 12th century. These two crowns are the "Greek crown" (Corona Graeca) and the "Latin crown"(Corona Latina), the latter of which was in all likelihood not a crown but rather some other relic. The studies indicate that the two parts of the crown were joined during the reign of King Béla III, sometime between 1172 and 1196, and it probably became part of the coronation ceremony around this time as well.
The crown is made of gold and adorned with Cloisonné images, pearls, and jewels. The upper part was made of four, 51 mm wide gold bands consisting of a darker hue of purer gold, while the gold of the lower part, called the rim, contains more silver, is denser, and is a lighter color. The rim contains Greek inscriptions. The crown is 127 mm tall without the leaning Latin cross on the top, and the diameter of the lower part of the crown varies between 204 and 216 mm with a circumference of 720 mm. Four 10-13 cm long gold chains are attached to each side and one to the back, which are allowed to hang freely and contain hanging pendants in the shape of clovers, adorned with semi-precious jewels.
The cross at the top was likely attached in the 16th century and ended up at an angle due to damage sustained in the 17th century, probably due to the top of the iron case holding the coronation relics closing on it before it had been properly placed inside.
The Holy Crown and the other coronation regalia are housed in the Parliament building. On August 15, 2001, the Feast of the Assumption of Mary, the crown was ceremoniously taken to Esztergom by boat as part of the millennial celebrations, after which it was returned to Parliament after a brief period of reverence.
The Hungarian Defense Forces are responsible for protecting the Holy Crown and the connected coronation regalia, and are instructed to use force if necessary.