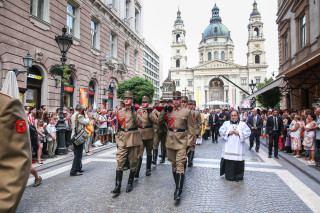 Holy Right Procession on August 20, 2018
Photo: Lambert Attila/Magyar Kurír
August 20 is the Feast of St. Stephen, the first king and the founder of Hungary, and it has also become a national holiday. In the Church, the height of the celebrations is the Holy Mass traditionally celebrated in the square in front of St. Stephen's Basilica and the connected Procession of the Holy Right, in which the relic of St. Stephen's right hand, preserved intact, is venerated along the traditional procession route. Thousands of devout Christians and others who do not practice their faith follow the Holy Right.
The first such procession dates back to 1771, when the Holy Right was returned from Ragusa (Dubrovnik, Croatia): for a number of days, the relic was on display in Győr and Pannonhalma so people could pay their respects. The procession became an annual tradition after August 20, 1891, when St. Stephen's Day was declared a public holiday.
One of the most memorable processions was that of 1947, when Cardinal József Mindszenty himself led the crowd all the way from the Basilica to Hero's Square with the participation of close to five hundred thousand people. In the following years, the communist leadership no longer allowed the procession to take place due to its religious and national significance. Between the years of 1950 and 1989, August 20 was the celebration of the people's republic and the constitution, referred to as the holiday of new bread.
After more than forty years, the Procession of the Holy Right was again organized on August 20, 1989, and it has since become one of the most important events of the year in Budapest. Lately, a mini-pilgrimage has been held in the city, offering spiritual and cultural programs for those who visit St. Stephen's Square a couple hours before the celebratory mass. A tradition has developed of inviting guests to give the homily, including numerous Hungarian bishops from both within and outside the country's borders, and others, such as Cardinal Josip Bozanić, Archbishop of Zagreb (2016) and Stanisław Gądecki, Archbishop of Poznańi, Chair of the Polish Bishops' Conference (2019).
In addition to the Procession of the Holy Right, another religious tradition on August 20 is the blessing of the new bread, both here as a national celebration and in smaller communities across the country.