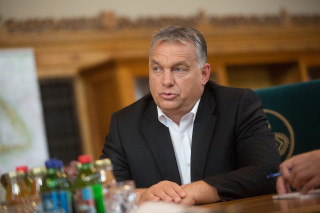 Viktor Orbán, Prime minister of Hungary
Photo: Lambert Attila/Magyar Kurír
Prime Minister Viktor Orbán was born on 31 May 1963 in Székesfehérvár and spent his childhood in the towns of Alcsútdoboz and Felcsút. His family moved to Székesfehérvár in 1977. As a student of the Eötvös Loránd University's Faculty of Law and Political Sciences, he was a founding member of the Law School of Social Sciences in 1983 (renamed the István Bibó Law School in 1988).
In 1984, he co-founded the school's social theory journal, called Századvég (Century's End), and worked as one of its editors. In 1989 and 1990, he studied English liberal political philosophy at Pembroke College in Oxford.
He is a founding member of the Fidesz political party, established on March 30, 1988. His speech given on June 16, 1989 on Heroes' Square on occasion of the reburial of Prime Minister Imre Nagy and the others who also died as martyrs with him elevated Orbán to both national and European prominence: he demanded free elections and the withdrawal of Soviet troops from Hungary. In the summer of the same year, he participated in the Opposition Round Table negotiations as a member of the opposition negotiating team.
He has been a Member of the Hungarian National Assembly since 1990 and has led the Fidesz faction since 1993. In September 1992, he was elected Vice-Chairman of Liberal International. In May 1993, he became President of Fidesz: under his leadership, the party was transformed from a radical political youth movement to a moderate people's party devoted to the nation.
He became Prime Minister of the coalition government consisting of the Fidesz-Hungarian Civic Party, FKGP (Independent Smallholders' Party), and MDF (Hungarian Democratic Forum) parties following the 1998 parliamentary elections. The government led by Orbán introduced family tax allowances, student loans, supporting young people in creating their own homes, the Széchenyi Plan to support domestic companies, and implemented a number of symbolic projects, such as the construction on the National Theatre and rebuilding the Mária Valéria Bridge that connects Hungary and Slovakia and had stood in ruins since World War II. In March 1999, as Prime Minister of the Republic of Hungary, he signed Hungary's NATO accession documents. In October 2002, Viktor Orbán was elected President of the European People's Party.
In May 2003, he again became President of Fidesz-Hungarian Civic Party, which had since become an alliance. He was re-elected as President of the European People's Party in both March 2006 and December 2009.
In 2010, Orbán became Prime Minister of the Fidesz-KDNP (Christian Democratic People's Party) party alliance, which won a two-thirds majority in the parliamentary elections. Defining measures of his second term as Prime Minister include the introduction of a simplified naturalization procedure for Hungarians living outside the nation's borders, adopting the Fundamental Law of Hungary on April 25, 2011, and leading the country out of a serious crisis caused by the economic recession. In 2014, the Fidesz–KDNP party alliance won its second two-thirds majority, and Orbán once again became Hungary's Prime Minister. More than two thirds of voters voted for Fidesz–KDNP for the third time on 2018 and for the fourth time in 2022, resulting in Orbán's current, fifth term as Prime Minister.
He is married to Anikó Lévai, lawyer, with whom they have five children and five grandchildren.