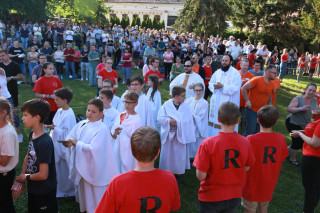 The Hungarian Catholic Bishops' Conference established the Committee for Youth in 1997, which plays an active role of providing assistance to persons who bear responsibility among the nation's Catholic youth. The association is headed by Ferenc Palánki, Diocesan Bishop of Debrecen-Nyíregyháza, János Székely, Diocesan Bishop of Szombathely, and Gábor Mohos, Coadjutor Bishop of Esztergom-Budapest.
They are supported in their work by the conference office, where Miklós Gábor coordinates affairs as Office Manager and Petra Rózsás works as assistant. A number of youth offices function in several dioceses, such as in Győr, Eger, Veszprém, and Szeged, in support of liaison.
They also operate university chaplaincies for students.
As Ferenc Palánki, Diocesan Bishop of Debrecen-Nyíregyháza and President of the Committee, said: "We know that the period of youth is when people make big decisions, which is why an important goal is to help young people find and evaluate their vocations according to the teachings of the Church, regardless of whether their calling is to be a priest, a member of a religious order, or to enter into marriage." Within the mission of the Church, the Youth Committee seeks to evangelize and provide spiritual education to young people, to help them unfurl their callings and support them in their vocations, ensuring that all young people can find their place in the Church and society. The Committee helps young people experience the living essence and variety of the Church.
Programs include the Catholic Youth Meeting in Nagymaros held regularly for more than 40 years, the volunteer action program called 72 Hours Without Compromises, and the Eucharistic evening Boiling Point – With Jesus, which was inspired by the 52nd International Eucharistic Congress. The organization played a part in helping youth attend World Youth Day and also helps young people join in the events by holding co-events (e.g. Hungarian Sydney, HungaRio). In addition to the national-level programs, they reach out to younger generations with their online presence and through leaflets.
Young people working for the Committee can participate in volunteer and community work and may also establish youth bands.