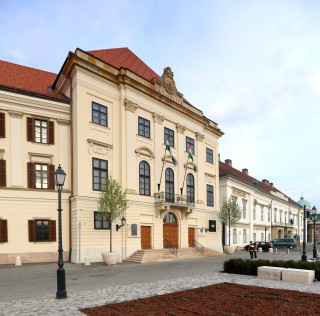 Carmelite Monastery of Buda, residence and the current seat of the prime minister of Hungary
The former Carmelite Monastery that now houses the Prime Minister's Office is located in the Buda Castle District, in Budapest District I. The building complex consists of two large units: the Carmelites' former monastery (a two-floor building with an enclosed courtyard) and the single-nave church building that connects to it from the south.
In the Middle Ages, the location was home to the Franciscans' St. John's Church and Monastery, which was established by King Béla IV and built in 1269-1270. The church was later managed by the St. Sigismund provostship, which the Ottomans destroyed when they conquered over the castle in 1541. After the Christian forces of the Holy League retook Buda Castle, the land was given to the Jesuits, who in turn gave it to the Carmelites in 1693. The foundation stone was laid in 1725 and construction was completed in 1736. The consecration ceremony was held in 1763. However, in 1784 Joseph II, Holy Roman Emperor banned the Carmelites as well. The church was then converted into a theatre in 1787 and its tower was demolished. The church and the former monastery building was redesigned by Farkas Kempelen: the refectory was turned into a grand hall adorned with Ferenc Gelinek's late-Baroque neoclassical wall paintings of garlands and medallions. The building's two-floor façade facing Színház Street was rebuilt in the Classic style in the 19th century, when a main entrance, gateway, and staircase were added. The buildings suffered heavy damages during the siege of Budapest in World War II, after which it was rebuilt and again used as a theatre. Extensive renovations were started in 2016 and the Prime Minister's Office took up residence on January 1, 2019.
The larger meeting rooms are located in the building's northern half and the government's chambers are in the former refectory, the monastery's former dining hall. Smaller meeting rooms and offices line the side overlooking the Danube. A number of smaller rooms that can be opened into one another lead to the Prime Minister's offices: these are used to receive delegations. The paintings in the building are the property of the Hungarian National Gallery (that are currently not on display in the Gallery), and the rugs are from the Museum of Applied Arts' collection of Turkish rugs. The furniture consists of restored pieces as well as authentic copies. The library room is located in the former theatre building.