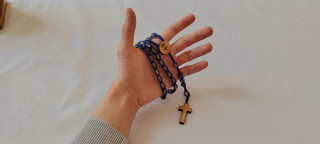 A research and development project at the Faculty of Information Technology of Pázmány University aims to develop an anatomically accurate robotic hand that can perform movements similar to human hands. This will enable the creation of prostheses that, through their realistic movements and by mimicking human tissues, can be better adapted to the patients' body image, thus providing a more comfortable and efficient user experience.
However, new technological solutions are needed for the engineering mapping of complex tendon and ligament systems that can withstand long-term use – for this reason, researchers and students from the Robotics and Rapid Prototyping laboratories of the Faculty of Information Technology decided to build their own, specially designed programmable 'spinning machine', which is capable of creating such multiply branched structures.
Preparing the unique rosary for Pope Francis was made possible by this spinning machine, likewise preparing the components for prosthetic hands, which the university researchers hope will contribute to improving the quality of life of patients with limb disabilities.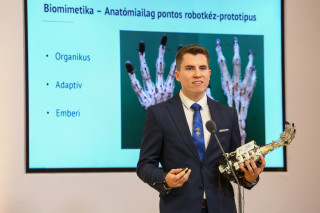 Photo: Lambert Attila/Magyar Kurír