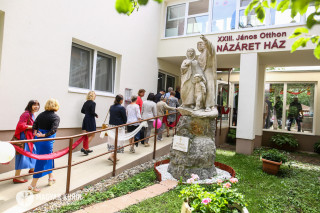 Catholic Charity Service, Home of János XXIII.
Photo: Lambert Attila/Magyar Kurír
The Catholic Charity Service has been a key player in the social sector for over 70 years. It was founded in 1950 by the Hungarian Catholic Bishops' Conference to care for elderly, sick monks and nuns who were left without care due to the dissolution of monastic orders. It was the staff of the charity service who tried to look after their physical and spiritual well-being in their difficult situation. Initially, the institution was run by Jesuit monk Gábor Szörényi and Sister of Mercy from Szatmár Erna Szabó, and from 1980 onwards the work was coordinated by Piarist monk Ottó Virányi. For a long time, this was the only Catholic organisation – and only here – where the state continuously contributed to the establishment of new institutions. Even after the democratic transition, their activities were mostly carried out in the background, in silence, despite the fact that they were constantly taking on new tasks.
From the 2000s onwards, the organisation became an increasingly important member of the Hungarian social professional scene. In addition to a growing network of institutions for the elderly, the St. Elisabeth Home for mentally handicapped children was opened in Ipolytölgyes, the St. Vincent Temporary Home for Families in Csákvár and the Bakonyszücs Spiritual Rehabilitation Home for the spiritual healing of cancer patients.
Its Methodological Information Newsletters (now called Methodological Courier, a monthly online magazine) are an important source of information for those working in Catholic and secular social institutions. Since 2014, the Charity Service has also been involved in the government's annual consultation on the social sector and has taken over the running of several formerly state-run institutions. The organisation is also currently involved in cooperation and development with sectoral management in the professional field, and is an invited expert on several national committees, such as the Scientific Council of the Ministry of Interior.
In 2018, they launched the Natural Child Bearing Project, which has a unique focus on natural family planning and changes in the female cycle. An important and defining event in 2017 was the launch of the dementia.hu website and the DIÓ programme, which brings together individuals, families and communities affected by dementia.