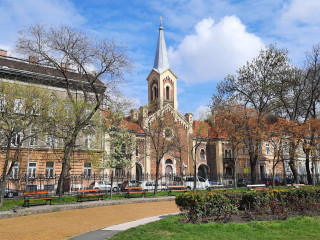 The Greek Catholic Church of the Intercession of the Theotokos
Photo: Baranyai Béla/Magyar Kurír
The Greek Catholic Church of the Intercession of the Theotokos was originally built on Poor House Square, later rechristened Rózsák Square (or Square of Roses). The building was built between 1875 and 1880 based on plans dreamt up by Győző Czigler. The former parish church was handed over to the Greek Catholic faithful in 1904, who then gave it a Byzantine atmosphere.
The Intercession of the Theotokos is a special Byzantine feast. According to liturgy historians, its origins date back to the 10th century, when St. Andrew and St. Epiphanius were praying in the beleaguered Constantinople when they had a vision of the Virgin Mary as she came down from the heavens in the company of saints. She then spread her veil over the people of Constantinople to protect the city.
Emmánuel Petrasovszky and his friend the artist István Takács were commissioned to paint the interior of the church in 1932. The altarpiece, the two main images of the iconostasis, and the depiction of the Last Supper are the work of Ignác Roskovics.
In World War II, the church suffered some minor damage. With the exception of the part behind the painting of Our Lady of Hungary, which preserves the memory of an unexploded bomb, these were slowly repaired over time.
The church is one of the oldest meeting places for Budapest's Greek Catholic faithful. In addition to lauds, six liturgies are held every Sunday. Additionally, it also serves as home for other Orthodox Catholic communities, as the church also hosts services in Arabian and in Old Church Slavonic.