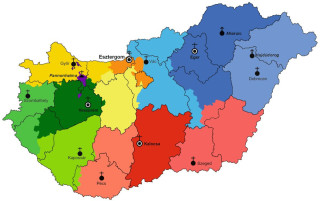 Dioceses of the Hungarian Catholic Church
Hungary's first dioceses were established by the first king, King Stephen I. According to a legend written around 1077, "The most Christian of princes divided his provinces into ten bishoprics and, with the approval of the Holy See of Rome, made the Church of Esztergom the head and supervisor of the others." In keeping with the tradition, the primate of Hungary is the archbishop of the Esztergom-Budapest Archdiocese, which is the successor to the original Esztergom Diocese. Despite of the many changes that took place in the course of history, to this day the borders and centers of the dioceses retain the structure created by St. Stephen.
The current division of the Roman Catholic dioceses in Hungary is exactly thirty years old. With his papal bull "Hungarorum gens" dated on Pentecost Sunday, 1993, St. Pope John Paul II established two new dioceses: one in the Transdanubian region (the Kaposvár Diocese with its center in Kaposvár), and one in the Transtisza region (the Debrecen-Nyíregyháza Diocese, with its center in Debrecen). There are four archdioceses in Hungary, and the ecclesiastical provinces they are responsible for each contain two dioceses: the Esztergom-Budapest Archdiocese contains Győr and Székesfehérvár, the Kalocsa-Kecskemét Archdiocese contains Pécs and Szeged-Csanád, the Eger Archdiocese contains Vác and Debrecen-Nyíregyháza, and the Veszprém Archdiocese contains Kaposvár and Szombathely. The Benedictine's Regional Pannonhalma Abbey has been independent ever since it was established in 996.
Hungary is also home to a significant number of Greek Catholics, mainly in the country's eastern regions and in larger cities. They belong under the Greek Catholic metropolitanate. Before the Hajdúdorog Diocese was established in 1912, Greek Catholics whose native language was Hungarian and who identified as Hungarians lived in two dioceses that used the Old Church Slavonic liturgical language and three that used the Romanian language (these ended up outside of Hungary's borders as a result of the 1920 Treaty of Trianon). The structure of today's Greek Catholic church was developed by Pope Francis in 2015 when he established the Hungarian Greek Catholic Independent Metropolitan Church, with its center in Debrecen, which governs the Hajdúdorog, Miskolc, and Nyíregyháza Eparchies.
The Hungarian Catholic Bishops' Conference is responsible for performing certain pastoral tasks and for liaising with the State.