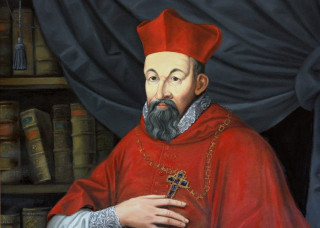 Péter Pázmány, Cardinal Archbishop of Esztergom Prince Primate of Hungary
Péter Pázmány (1570–1637) was born in Oradea to a Protestant family and became a Jesuit monk, ecclesiastical writer, Archbishop of Esztergom, and Cardinal. He came into contact with the Jesuit Order as a secondary school student in Cluj-Napoca, and then went on to study humanities and theology in Krakow, Vienna, and Rome. In 1597, he worked in the Jesuit formation center in Graz and started teaching at the Graz University in 1598. The next steps in his career took him to Sellye, Košice, and then back to Graz. In 1607, he returned to his home town and worked alongside Ferenc Forgách (1560–1615), Archbishop of Esztergom. He enjoyed great success as a speaker and even gave a speech at the National Assembly in Bratislava in defense of the Jesuit Order. Pázmány initiated the provincial synod convened in 1611. Thanks to the Archbishop's influence, Pope Paul V absolved Pázmány of his Jesuit profession in 1616, which allowed him to become a bishop and then, following the death of Archbishop Forgách, Archbishop of Esztergom. He quickly established seminaries in Trnava and Vienna, the latter of which is still functioning under the name Pazmanianum. In 1635, he also founded a university in Trnava with faculties to teach theology and the humanities; its legal successors are the Eötvös Loránd University and Pázmány Péter Catholic University of today.
The work of Péter Pázmány is synonymous with the renewal of the Catholic faith in Hungary. He was an influential preacher and evangelist. His works, published between 1603 and 1612, deal with the teachings, rites, and history of the Catholic Church. His most important work is the Guide to Truth (1613), which gives a summary of the main pillars and principles of the Catholic faith. As a protector of Catholic faith, Pázmány managed to return approximately thirty aristocratic families to the Catholic Church. He was also extremely prolific as a writer and is uncontested as one of the creators of the literary Hungarian language.